January 13, 2023
Posted by:

admin

Category:

immigrate to Canada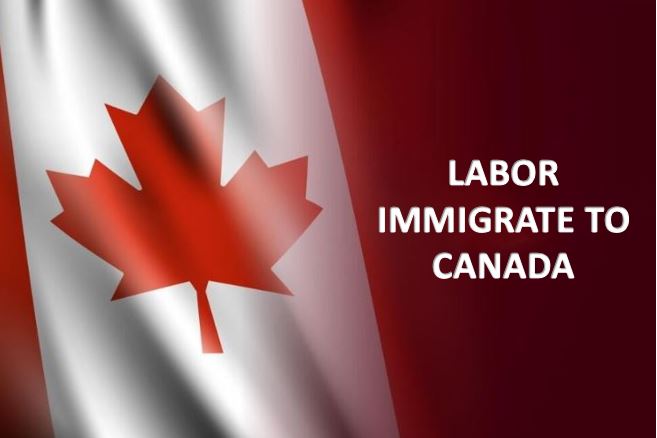 Canadian immigration policy attracts workers from all over the world to contribute to the country's economy while providing quality living standards for the immigrants. The best Canadian immigration agency shall guide you on the application for a work permit based on your qualification and experience. There are 2 main categories of work permits: –
Temporary foreign worker program (TFWP)
Work in Canada for foreigners in this category is available when the employer obtains a positive LMIA. A positive LMIA indicates a demand for labor that the existing Canadian labor market does not fulfill. The foreign worker can immigrate to Canada by submitting the employment offer letter, LMIA, and any other relevant document to IRCC.
Labor Market Impact Assessment: –
The LMIA document assesses the impact of hiring a foreign laborer on the existing Canadian labor market. A negative assessment means foreign hiring will not benefit the local labor market and vice versa. Employment and Social Development Canada (ESDC) issues LMIA. The ESDC authorizes foreigners to become open work permit holders or apply for PR in Canada. ESDC's job is to ensure that bringing foreign labor shall add to the well-being of the Canadian economy. Therefore, some labor categories enjoy exemption from LMIA requirements to immigrate to Canada. These include: –
if the employment of foreign labor brings a competitive advantage to Canada;
or/and brings benefits for the natives and PR holders.
International mobility program(IMP)
The basic difference between the two programs is you do not need LMIA to immigrate to Canada as a laborer in IMP. The employer must prove that the vacant position does not require an LMIA. The employer submits the form online on IMP's Employer Portal and pays 230 CAD. Once, the employer completes these formalities, the foreign worker can apply for a work permit.
Immigrate to Canada as a Common laborer: –
Those who have missed their professional studies can still live their Canadian dream, as Canada has abundant opportunities for general laborers.
General laborers are very important for any economy. They assist in operations at various sites including industrial, construction, agricultural, power generation, and many others. The Canadian authorities classify general laborers according to the following categories: –
Trades, transport, and equipment operators and related occupations
General laborers can apply for this category as repair, maintenance, handling, and regular operation workers in transportation, heavy machinery, construction, and related industries.
Trades helpers, construction and laborers related occupations
This includes jobs for laborers such as public works and maintenance laborers, construction trade helpers, and railway and motor transport laborers.
Other trades helpers and laborers
This includes various manufacturing, and utility services companies such as telecommunication, heating and cooling, and others.
Minimum requirements for general laborer: –
To immigrate to Canada as a general laborer, first, the applicant must meet the immigration requirements that are the same for any applicant. These include: –
Language proficiency
Age requirement
Minimum education requirement
Employment experience
Offer letter from a Canada-based employer
General laborer-specific requirements for immigration to Canada are as follows: –
The applicant must provide evidence of having completed on-the-job training regarding the job.
An apprenticeship certificate of at least 1 to 3 years
Basic knowledge of workplace safety and ethics
Sharp analytical and critical thinking skills to provide solutions to unique problems.
Different pathways to immigrate to Canada as a Common laborer: –
Express Entry Program: –
This is the fastest and most popular route to Canadian immigration. The applicant creates a profile based on education, work experience, language proficiency, and other credentials. The applicant gets a score based on the profile. The best-ranking applicants get invitations for immigration to Canada. You can come to Canada as a skilled worker as well according to this program.
Provincial Nominee Program: –
Many people apply for PNP alongside the Express Entry program. This gives an instant 600 points upon application. British Columbia, Saskatchewan, and Alberta are amongst the most popular provinces for immigrants as general laborers.
PNP is popular for skilled workers as well. The top professions in demand include technology workers, doctors, engineers, research analysts, and others.
Occupation in Demand: –
If your occupation as a general laborer is in demand for a particular province, there are bright prospects for you to immigrate to Canada. Good education and language skills are a major plus, ensuring fast processing and a better package.
Quebec Experience Class: –
Quebec has a separate program for immigrants as a general laborer. It is one of the best pathways for laborers. However, language proficiency in French is a must to qualify for this program.
---
Are laborers in demand in Canada?
Laborers from all over the world are welcome in Canada. They can polish their skills and lead a socially and financially secure life. As a growing economy, the labor class forms the backbone of Canada. Hence the labor are always in demand.
How much is a laborer paid in Canada?
On average, a laborer makes $16.29 per hour in Canada. That makes up to $31,763 per annum. At the initial stage, the income may range up to $29,243. With experience, it can go to $39,000.
In some professions, the average hourly pay rate is as much as $18/ hour or more because of the additional skills and expertise required.
Most laborers immigrate to Canada from developing countries where they do not have access to living conditions as in Canada. Canada promises a bright prospect for those who are willing to work hard and give their best no matter if they are laborers or skilled workers.